Dental Implants
After the loss of one or more teeth, a comprehensive tooth replacement promotes better oral and overall health for a lifetime. Dental implants give you back your missing tooth as well as its supporting root. Your dentist partners with a local oral surgeon for the placement of dental implants, and then restores the implants and provides follow-up care and maintenance from the comfort of our office. Many patients are eligible for dental implants, but you should schedule an appointment at our Minot, ND practice to discuss your eligibility.
How Dental Implants Work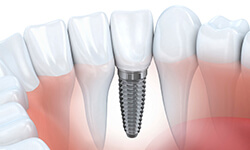 Dental implants are small titanium posts that are surgically implanted beneath the gum line. Once here, the dental implants actually grow together with the jawbone to provide maximum security and stability for the prosthetic teeth that will be affixed on top. By becoming one with your jaw, implants enhance strength and contribute to better oral health.
Dental implants should be placed soon after tooth loss. They require plenty of healthy jawbone structure for proper anchoring, and missing teeth cause the tissue to slowly diminish. Otherwise healthy patients may need a bone augmentation procedure to increase the amount of bone tissue before dental implants can be placed.
Benefits of Dental Implants
For eligible candidates, the advantages of implant dentistry are significant. Some include…
Better oral and overall health with a stabilized jawbone
They look and feel just like your natural teeth
Eat what you like
Implants can improve dental misalignments
No need for denture adhesives
Long-lasting investment
Schedule an appointment today!
If you have recently lost one or more teeth or if you have failing teeth on the brink of extraction, act quickly to ensure you can benefit from dental implants, the very best in tooth replacement. The team at West Hills Dental will partner with you through each step of the process for dental implants. Request an appointment today!