Restoring Your Smile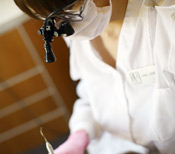 Your teeth and gums are vulnerable to a host of oral health hazards, including decay, infection, injury, and tooth loss. Brushing, flossing, and regular visits to the dentist help to keep these issues away — but if something gets in the way of your healthy, complete smile, trust the team at West Hills Dental to provide the help you need with restorative dentistry. Learn more about the services we offer Minot families, then schedule an appointment today!
Crowns & Bridges
Traditional crowns and bridges repair dental damage and replace missing teeth. They can be constructed of several materials, including porcelain, porcelain fused-to-metal, gold, metal, and zirconia. Completed over two visits to our office, crowns and bridges offer a sturdy, long-lasting solution for a number of dental issues.
Tooth Colored Fillings
Tooth-colored fillings offer a highly aesthetic alternative to silver, or amalgam, fillings. They are also less sensitive to temperature changes and require less removal of the healthy tooth structure. In addition to filling new cavities and replacing old gray dental work, tooth-colored fillings also make cosmetic improvements to the front teeth.
Dentures & Partials
Dentures and partials are acrylic teeth attached to a pink base that looks like your gum tissue. Dentures are ready quickly and provide a life-like tooth replacement, restoring your ability to eat, speak, and smile after significant tooth loss. Partials fit securely around existing natural teeth, and are held in place with clips or brackets. A complete denture replaces all the teeth in the upper or lower jaw. Natural suction and a denture adhesive keep the complete denture secure in the smile.
When you take care of your dentures properly and visit your dentist regularly, you will be able to use each set for about six years before replacement is necessary. Notify your dentist if your denture becomes loose or uncomfortable for prompt relief.
Root Canal Therapy
Root canal therapy, or endodontic treatment, rescues severely decayed or damaged teeth from extraction. The treatment is necessary once the tooth's pulp, or the part we call the nerve, becomes infected. A root canal is usually the last option for saving the natural tooth. While root canals have a reputation of being very painful, with precise anesthesia and our expert approach, it is highly unlikely that you will feel anything at all. In fact, the reason root canals are often associated with pain is actually because people confuse the discomfort of the original toothache with the procedure itself. We promise — there is nothing to fear from a root canal at West Hills Dental! And when you need it, it's the only thing that will heal your smile.
Extractions
Our plan A is to save your natural teeth — but sometimes, extraction is the best option for protecting your oral and overall health. If we determine that removing a tooth is necessary, our team of doctors is highly experienced in performing comfortable, efficient extractions. A simple extraction is a nonsurgical tactic in which the tooth is removed in a single piece with forceps. A complex extraction is oral surgery used when the tooth needs to come out in multiple pieces.
Wisdom Tooth Extractions
By far the most common tooth extraction is that of the wisdom teeth, or the third molars that often emerge in late adolescence or the early 20's. Not everyone has wisdom teeth, but when they are present, there is usually not enough room for them to erupt properly. Wisdom teeth often become impacted or infected, and they can also cause crowding of the surrounding teeth. Dr. Kaci Drapes provides comfortable wisdom tooth extractions as needed. For the more complicated extractions, or, if there is a patient who is wanting sedation, we can refer you to an excellent oral surgeon.